Sale!
Working with the Equine Spine | 2-Day Workshop | May 12-13, 2018 | Brooklyn, Wisconsin
$400.00
Working with the Equine Spine, Brooklyn, Wisconsin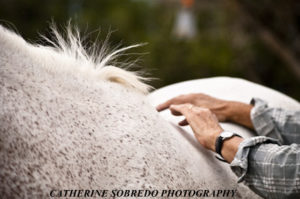 The class aims to foster a holistic view of the horse and people's relationship to it through non-force intention. Equine Body Balance balances the horse's systems and allows for better functionality. It allows people to be more proactive in their horse's health care by learning how to observe a horse's condition, and hands-on techniques to address injury, restriction and improve overall movement, health and soundness.
The work is a complement to veterinary care, not a substitute.
Class Content:
Approaching the horse – greeting, coming into connection.
Assessment: observe the horse, the gait, movement patterns and gestures.
Techniques such as lifting legs in position of comfort, caving around an area of pain, addressing trigger points.
Learning to feel tissue differences, i.e., sinewy, squishy, tissue with bounce-back, hard
Response: Learn to notice the horse's ability to respond to the treatment, including reflexive action. Learn to work at the level of each horse, and tailor the session to the needs of the individual horse.
Take home materials.
The work helps:
reduce stress
improve energy levels
relieve pain
address structural challenges, arthritis and lameness
improve organ function, lymph and blood mobility
ease digestive disturbances
Equine Body Balance point work is simple and non-invasive, and can be learned by any interested horse owner or professional. While the work is powerful, it can be applied without injury.  Owners can effectively support their horse's healing with this training.
Our question always is: How can we bring greater comfort, mobility and efficiency to the horse with bodywork?
​
Learn assessment through observation, further your palpation skills, encourage movement from within to without.  Learn to prioritize when bodywork, follow-up and other intervention is needed on an individual basis. Plus, take home sustainable Equine Body Balance techniques to use with your horse along with comprehensive materials!
Class size is limited so be sure to sign up well ahead of time!
Where: The Horse First Farm, 5594 Alpine Road, Brooklyn, Wisconsin
When: Saturday & Sunday, May 12-13, 2018, 9 a.m.-5:00 p.m.
Susan at info@susansmithsantafe.com or Carrie at crothburd@gmail.com